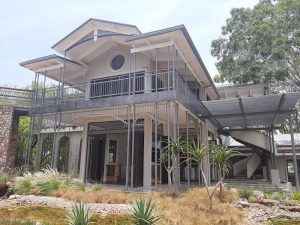 Zibusiso Ngwenya
There is an exciting development from Victoria Falls once again as Palm River Hotel is scheduled to open its doors to the public on the 1st of December 2021. The hotel is only the second to be conveniently located just by the banks of the Zambezi River on the Zimbabwean side.
The exquisite new tourism baby has a five-star rating written all over it. Offering a fresh and resort feel to the tourism sector in Victoria Falls, it is set to give its competitors a run for their money.
Interestingly the hotel was intentionally designed and built using Zimbabwe products. The design was done by Harare based architect, Bruce Rowlands whilst the wood, stone and landscaping work were all done by Zimbabweans.
According to Pia Theisen who is with the Public Relations team of the hotel, "The Palm River Hotel offers the discerning traveller luxury accommodation with easy access to explore Africa's natural World Wonder of Victoria Falls, enjoy a plethora of activities on offer within the historical town of Victoria Falls or soak in the magic of the Zambezi River while experiencing the abundant wildlife and birdlife that inhabit the popular tourist destination."
There are a number of designs around the hotel that mimic a series of familiar sights around the resort town. This includes an imposing "Victoria Falls" bridge that links two of the blocks. The neat footpaths around the manicured lawns are similar to the ones in the Victoria Falls rain forest.
The indigenous trees have been left undisturbed and the 7 two-storey blocks that make up the rooms are named after the trees that are found around the property. According to the General Manager, only 3 trees were cut during the construction of the hotel. Still, the hotel will plant over 180 more trees to rehabilitate the construction site offices and other areas.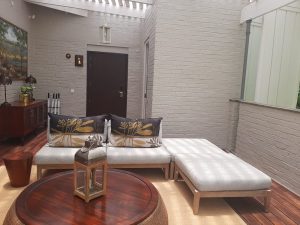 While the Hotel is set to get a 4-star grading from ZTA it will be offering a 5-star experience to its guests. The luxurious Presidential Suite is a gem that offers a pleasant view of the mighty Zambezi river as it peacefully flows into the gorges of the Victoria Falls.
Martijn van Leent who is the hotel's General Manager said, "30 rooms will be available from 1 December whilst the remaining rooms will be available as from 1 April 2022 during peak tourism season."
"We will operate three boats which each carry 12 to 14 people and offer premium drinks and snacks during the morning and evening cruises," said van Leent.
The Hotel will have a total of 73 rooms, 2 of which were specifically designed to cater for people with disabilities. The whole facility is wheelchair friendly. The hotel is already 40% booked for December and fully booked for certain days around Christmas and the New Years' holiday. It will be commissioned on 24 November.