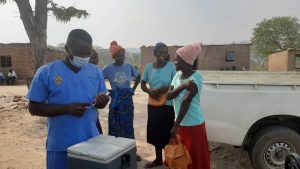 Hurungwe District has completed the first 12 days of phase 1 vaccine roll out.
The program was meant to ramp up the number of vaccinated people in Hurungwe amid fears of an anticipated fourth wave which usually precedes the Festive period.
It was also meant to cover areas deemed hard to reach and therefore ensure that no one was left behind in synch with the NDS1 programme.
Hurungwe District had four teams operating full time during this massive vaccination blitzkrieg.The teams covered Hurungwe West, Hurungwe North, Hurungwe Central, Magunje and Hurungwe East with those far flung areas like Shamrock Mine, Chipapa, Sanyati Bridge, Piriviri, Nyangwizho being reached.
The teams worked during weekends to ensure that the anticipated figures are achieved.
A snap survey of the daily statistics from the groups indicated that on average 100 people were vaccinated per day which gives an average of 400 people per day throughout the districts.
These statistics did not however include the daily vaccinations being done in all the health centres of Hurungwe. Overally, the response was encouraging, pointing to the work that the Risk Communications Task force was doing.
Information was disseminated and myths demystied. More still needs to be done though to thwart the social media misinformation about the jabs.
In rural Chipapa, members of the Johane Marange sect still resist the idea of being vaccinated against Covid 19. At Chingurunguru Sec School over 112 people received the first jab and these included school children who are above 16 years. However, Government still need to come up with a robust plan that ensures that all pupils within the age group that was deemed proper to be vaccinated have received the jab.
Village Heads were very instrumental in the large turn outs which were experienced in Chipapa, Nyaodza and deep in Sabhuku Magaramombe 's area.
This was partly due to the large mortality rates they experienced during the third wave. Hurungwe suffered the biggest blow of the pandemic with many high profile business people , politicians and the elderly dying from the pandemic.