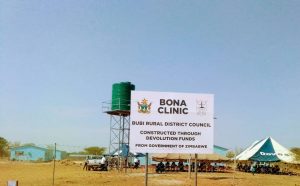 The newly-constructed $10 549 000 Bona Clinic in Bubi District, which was built using devolution funds has been officially opened.
opened in Bubi District. Bona Clinic whose construction began in 2019, was funded by devolution funds amounting to.
Officially opening the facility last weekend, Matabeleland North Minister of State, Hon Richard Moyo paid tribute to President Emmerson Mnangagwa for making the devolution agenda a reality through availing funding for infrastructural development.
He revealed that the opening of the health facility had brought relief to the Bona residents who used to travel for over 26km to access the nearest Mdutshane Clinic in Nkayi. Travellers and motorists transiting through Bona will also have easy access to emergency health care if needed as the clinic is strategically positioned along the Bulawayo Nkayi Highway.
Bubi Rural District Council Chief Executive Officer, Dr Patson Mlilo also hailed the development and said Bubi District, which is made up of A1 and A2 resettlements is still in need of important facilities such as clinics, water, road infrastructure and schools. He said the local authority had received ZWL 35 350 000 so far from Treasury for devolution projects.
Bona Clinic consists of a super structure which has 2 offices, utility room, a storeroom, labour room, post-natal room, consultation room, examination room, 2 drug rooms and a sluice room. Two staff cottages were also built.