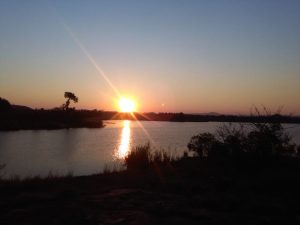 The Nyatare Dam has become a source of livelihood for villagers in Zaka.The water source is used to irrigate vegetables by local villagers throughout the year. It also provides water for local livestock since many rivers at this point in season have run dry. Villagers grow leafy vegetables and tomatoes and sell these to the major business centres such as Jerera, Ndanga and Gumbo. The residents in Jerera and other business centres in Zaka no longer depend on vegetables from Masvingo Town, but from these locally produced vegetables.
Many villagers are deriving their income from selling vegetables and that money helps them to meet household needs such as paying for school fees and buying other basic necessities. Fishing also takes place to supplement household income and food.
This dam is a very special gift that is being utilised by villagers as they fight for better livelihoods. The standards of living for many villagers have improved due to economic activities derived from this dam. As such, villagers no longer wait for the donations from the government or civil society.
One of the villagers said that he is happy with the enabling economic environment that was created by the new dispensation. He is able to sell his vegetables at very good prices. The dam has a very strong concrete wall which enables it to harness more water during rainy season. The dam harvested more water from the abundant rainfall received from the previous rain season.
The Dam has also became a hub of recreation for the local people especially the young people as it provides a unique sun set view. There is no need to travel to see the sun setting. It's free of charge. It's for the benefit of the community