Joseph Goteka
Mutoko Man expecting US 12000 from Agric produce.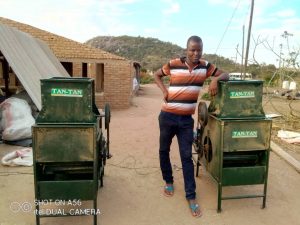 Mainos Gonamombe( 32) of Gafu village under Chief Mutoko has transformed himself from a tout at Mutoko Centre bus terminus into a prosperous agriprenuer.
Mr Gonamombe is into poultry, groundnuts production and horticultural production. Mr Gonamombe used to live in Mutoko centre touting but later decided to relocate to his rural village of Gafu where free land is available for his projects. He supplies his chickens to Unifresh and the local community. Currently he has a batch of 2000 two weeks old chicks. He is expecting US$12000 from the batch.
In the 2020-2021 season Mr Gonamombe managed to produce 56 tonnes of shelled groundnuts. He sold the groundnuts to Cairns Foods. He has two shelling machines that are also assisting groundnuts farmers in the village. Even though a lot of people are into groundnuts production they are yet to embrace the use of shelling machines.
The young farmer has acquired a peanut butter making machine with a capacity to produce 80litres per hour .Mr Gonamombe uses the groundnuts shells as bedding for his broiler chickens. He also takes the chicken waste for manure for his vegetable production. With the proceeds from his projects Mr Gonamombe has managed to build, electrify and install ZINWA tapped water at his village home.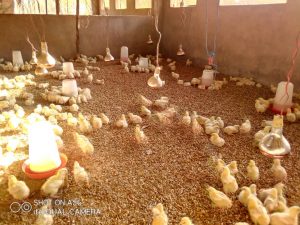 His wish is to drill a borehole at his homestead as well as import a corn degeminator machine which costs US$ 32000 so that he can venture into cornflakes making.He is aiming to register a company so as to facilitate link market linkages.
Mr Gonamombe however laments difficulties in finding a ready market for his products. He wishes if the export market could open up for him.
Gonamombe started his projects in 2017 using his own funds . He employs 5 people on full time basis and 25 people on temporary basis. With people like Mr Gonamombe, Zimbabwe can easily achieve HE President ED Mnangagwa's 2030 vision of an Upper Middle Economy.