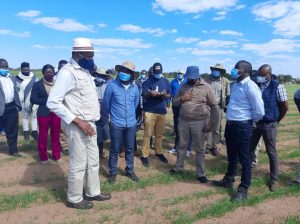 By Precious Nkomo
Government is set to introduce command horticulture and poultry in rural areas, where they are expected to generate an estimated US$500 per annually for each rural household.
Speaking on the sidelines of a tour of the Bubi-Lupane Irrigation Scheme in Lupane today, the Minister of Lands, Agriculture, Water, Fisheries and Rural Resettlement, Dr Anxious Jonga Masuka said the intervention was meant to ensure that rural communities, where 70% of the country's population resided contribute to the achievement of Vision 2030.
Minister Masuka said as Government pushes to ensure that communities transition from subsistence agriculture where farming is run as a business, communities such as those living adjacent to water bodies were expected to benefit from the command fisheries program.
In addition to the Pfumvudza/ Intwasa conservation program, Government has also begun incapacitating agricultural extension workers through the provision of motor bikes to enable them to be business advisers to rural communities. "No household, no village will be left behind", he said.
The 180 hectare Bubi-Lupane Irrigation Scheme is the first in an envisaged 60 such interventions in 60 districts that will be rolled out as the Ministry of Agriculture fulfils President Emmerson Mnangagwa's vision to have each district put 200 hectares of land under irrigation.
Minister Masuka said Bubi-Lupane, which will have an additional 20 hectares added onto it will be used as a model of the latest program as the country seeks to achieve food security.