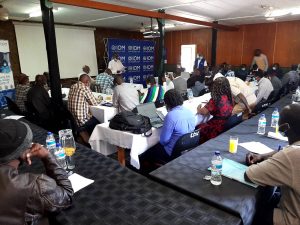 The International Organisation for Migration (IOM) has organised a five day stakeholder engagement workshop in Beitbridge in a bid to discuss how Covid-19 has affected Informal Cross-border Traders economically, socially and health wise.
Stakeholders attending the workshop include revenue authorities, customs, cross-border traders and other government officials.
The closure of the Beitbridge border post due to the Covid-19 induced lockdown has seen informal cross-border traders resorting to smuggling of goods and illegal migration into and out of South Africa through numerous undesignated crossing points along the Limpopo River.
Currently, the border post is closed to the general public but open to diplomats, returning citizens and commercial truck drivers. As such, this has led to a massive smuggling along the Limpopo River and the border post.
Cases of buses and trucks being impounded by the Zimbabwe Republic Police (ZRP) and Zimra are rising.
Through this workshop, informal cross-border traders have the opportunity to be trained on safety and travel restrictions, their rights and responsibilities as well as training on business management skills.
At the end of the workshop, cross-border traders will be offered an opportunity to register and regularise their businesses.