LUPANE
The Minister of Agriculture, Lands, Water, Climate and Rural Resettlement, Dr Anxious Masuka says there is need for a paradigm shift in the management of irrigation schemes in the country to ensure their viability and sustainability. Addressing stakeholders during his now routine weekly visits to the Bubi Lupane Irrigation scheme yesterday, Dr Masuka said although he was pleased with progress on the 180 hectare scheme, his Ministry was in the process of restructuring, having already introduced a new directorate of training, which is meant to radically transform agricultural extension workers to business advisors.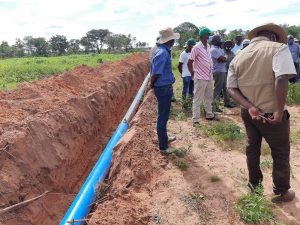 Under the new arrangement, the extension workers are expected to transform the mindset among rural communities from perceiving irrigation as a subsistence activity to a viable business venture. The problem with the 450 irrigation schemes in the country ,he said, was viability which was forcing government to rehabilitate the schemes every few years.
He added that under the new evaluation model, performance management among staff in his ministry is expected to shift from competition among staff in different wards and schemes to a situation where extension staff will compete against their own individual performances. To achieve this, the ministry will, in the next few weeks, be taking delivery of 1000 motor bikes and tablets linked to satellite to ensure consistent improvement in agricultural yields among ministry staff.
"AGRITEX is the biggest link in the development of the country, if we identify agriculture as the means to Vision 2030 for 70% of the population in rural areas that relies solely on agriculture. The means to get them to improve is AGRITEX. The low yields in previous seasons will not get these rural farmers to Vision 2030", he said.
The Minister said at the end of the three years, government expected farmers at Bubi Irrigation scheme to run the project as a viable business, with a proper governance structure which would receive technical support from government departments. A beneficiary of the scheme, Mrs Siphathisiwe Makhwi applauded government for the development at the scheme, initiated by government in 2018. She said, as beneficiaries, they expected to be self-sufficient as the benefits from the scheme would empower them.
Two centre pivots were installed at the scheme in 2020, while contractors have erected 2, 5 km of the 8km perimeter fence around the scheme with completion expected in the coming week. Another contractor is in the process of laying a 3.5 km pipeline to the 40 million cubic, Bubi Lupane Dam. Work on the pipeline is expected to be complete by 01 March 2021. 120 hectares have been put under sorghum with the remaining 60 hectares expected to be put under sugar beans in the coming week. The scheme has 90 beneficiaries