Matabeleland North, Bubi. Government will cultivate 500 hectares of land for vulnerable small holder farmers in Matabeleland North Province under the newly launched Free Tillage Support Programme. Speaking during the Provincial launch of the programme in Mahlabathini, in Bubi District today, Mat North Minister of State, Hon. Richard Moyo said the programme was aimed at ensuring food security for vulnerable households and to counter the negative effects of successive droughts that had seen most farmers lose their draught power. 'These, include the elderly, child headed households , people with disabilities and some beneficiaries who received assistance under the Intwasa/ Pfumvudza programme but did not have capacity to further cultivate their fields,' he said.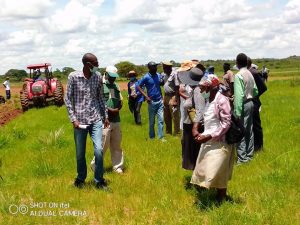 One of the beneficiaries of the programme, Mrs Paulina Sibanda (78) expressed her gratitude to the government for the support saying, 'my  field had lain fallow for many years, following the death of my husband,  following this intervention, i wil now work on my land and be food secure,' she remarked.
The intervention will be led by the District Development Fund (DDF) working closely with the Ministry of Lands , Agriculture and Rural Resettlement through its More Food for Africa programme. It will compliment the Government's Agriculture programs including Pfumvudza/Intwasa and Command Agriculture.