Mat North. The support extended by Government to the beef and leather and value chain which will see the establishment of ten mini factories, is expected to spur rural industrialization in Matabeleland North Province. Addressing beneficiaries who received 40 machines for the production of leather products from the Ministry of Industry and Commerce, the Permanent Secretary in the ministry, Dr Mavis Sibanda said the support is in line with Government's National Development Strategy, the National Industrialization Policy ,Devolution and Vision 2030.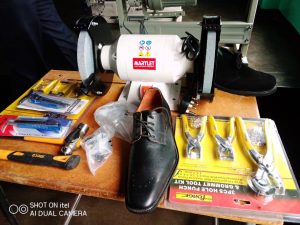 The project is funded through a grant of US$2 million from the Arrival Development Bank. It's aimed at increasing the overall competitiveness of the sector through building stakeholder production capacity. Trained beneficiaries include rural based livestock farmers, abattoir companies, hides and skin collectors, small to medium enterprises and government extension workers.Beneficiaries were trainee in producing school shoes, belts, sandals, and wallets.
Dr Sibanda said the project has purchased drugs and ear tags for 80 000 cattle in order to preserve the high quality of hides.
Kusile Rural District Council Chief Executive Officer, Mr Christopher Tshuma applauded the government for the support, noting that it complemented other projects in Lupane district, notably, the Mathambo beef centre in Lupane which is working at improving cattle breeds as well as the opening of a new abattoir in Jotsholo which will supply hides for the mini factories. He noted that the programme was in line with the devolution programme which encouraged communities to benefit from their natural resources.
Lupane West legislator,Hon Martin Khumalo applauded the programme but called on Government to establish training institutions that will train communities in timber processing.