Government has to date released ZWL $8million dollars to Tsholotsho Rural District Council in a show of commitment by the new dispensation to develop all parts of the country, says Minister of State for Matabeleland North, Honourable Richard Moyo .Speaking at the commissioning of the local authority's commissioning of the sewage reticulation system and Makodola Bridge yesterday, Minister Moyo said Tsholotsho Rural District Council was among the local authorities that had benefited from the devolution funds in line with Vision 2030 in which President Emmerson Mnangagwa was emphasizing the devolution agenda.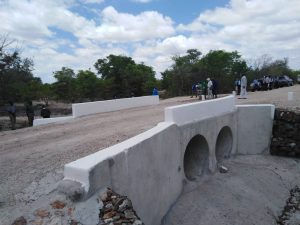 "Amendment Number 20 of the 2013 constitution of Zimbabwe provides fir the decentralization of governance to lower tiers of the country", he said.
Minister Moyo urged local authorities to engage communities at grassroots in order to ensure that projects embarked on address challenges faced by communities. " This is the kind of development that the new dispensation has taken in serving the nation," he said.
Minister Moyo also warned that Government would not tolerate corruption and misuse of public funds at the expense of service delivery. Tsholotsho Rural District Council is also working on two clinics, Jowa and Inala in an effort to bring health services closer to the communities.