Lupane. Government will push for the completion of key infrastructure projects in Lupane in order to facilitate the relocation of Government provincial employees, most of whom are currently operating from Mhlahlandlela Government Complex in Bulawayo Province, Vice President Mohadi said here yesterday. Speaking at the end of a tour of infrastructure projects which included the Welshman Mabhena Complex, previously known as Elitsheni and civil servants accommodation in Lupane on Friday, VP Mohadi, said 'completion of the two projects will facilitate the relocation of the provincial seat of Government from Bulawayo to Lupane, which was designated as its provincial capital in 1999, these projects have been going on for a long time.' The VP expressed concern over the lack of service delivery in the province due to the fact that provincial offices are domiciled in another province, ' the provincial seat of Government should come here but from the pace we see here, they seem to be slow, we will have to push them to do it faster than what they are doing now. The officers should reside here, to meet in Bulawayo which is 171 km from here is not good. They need to come here if we are to develop this place into a city', he said.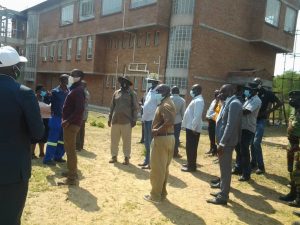 Vice President said, Public Works officials had indicated that payments to facilitate outstanding works, among them, the construction of an electricity sub-station by power utility ZESA had been processed. The Vice President said his visit sought to establish what was causing delays in completing the projects which have been under construction for more than a decade.
Work on the Welshman Mabhena Complex started in 2004 while the civil servants houses started in 2007. The 19 civil servants houses are complete but have not been electrified. Meanwhile a few departments such as the Pensions , Registrar General and the Ministry of Information, Publicity and Broadcasting Services have relocated to Lupane.