The first rains received in Chikomba District last Sunday night left a trail of destruction, destroying Mushipe Primary and Secondary Schools, shops and homesteads. The general outlook for this year's rainfall pattern, complemented with Government programs like Pfumvudza and Presidential input scheme, have brought renewed hope in the farming fraternity for a better cropping season. However, for Chikomba villagers, the start of the rainfall season has brought agony as revealed by Councillor for ward 30, Albert Mushowe. 'Mushipe Primary School had five staff houses and one classroom block with four classes roofs and asbestos sheets blown away. Mushipe Secondary School had two staff houses' roofs blown away including one block with two classes, all roofs blown away too. At the shops, five tuckshops and 19 homesteads had roofs blown away leaving one woman injured and some of the residents facing serious challenges in terms of shelter, basic food stuffs like mealie-meal and other food commodities, which were washed away by the rains,' Mr Mushipe revealed.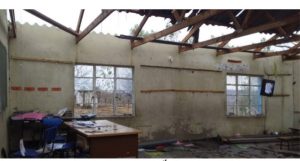 Mushipe clinic had one mother who was occupying the mother's shelter at the time of the storm and she managed to escape unhurt. Some affected victims quickly repaired a room to secure immediate shelter for family needs. "Tents would assist in a big way," Mr Mushowe noted, 'The storm left a big need for tents to cover the shelterless, the rains are promising a serious come-back, ' he said.
The Councillor sent an appeal to Government and well wishers to intervene 'Mushipe Secondary and Primary Schools would need about 28 asbestos sheets of 12 feet long each, 300 asbestos sheets of 9 feet long each, Trusses (20 X 6 metres) for the roofs to be fixed and 40 tents as temporary measures towards having shelter' he said.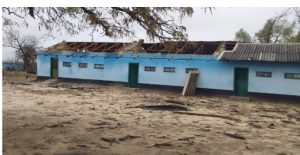 Further to this, basic food stuffs and clothing is also needed cater for the affected families, 'The affected village homesteads, teachers and nurses would need immediately some mealie-meal (50 Kgs X 40) and some basic food stuffs for life to move on,' Councilor Mushowe highlighted.
Due to poor mobile network in the Mushipe area, some households were yet to give reports of extent of damages experienced. Mushipe area is under Chief Neshangwe, located to the eastern side of Sadza Business Centre in Chikomba East Constituency.