President Mnangagwa this morning reaffirmed Government's total commitment to reconstruction and rehabilitation of infrastructure in the district of Chimanimani which was ravaged by Cyclone Idai in March 2019. Speaking after a grand tour of West End housing project in Nhedziwa, where cyclone victims are set to be relocated, the President was satisfied with the level of progress. "We lost a lot of loved ones during Cyclone Idai, but we are now looking into the future with greater resolve, should such a calamity strike again, our people should be safe," he said.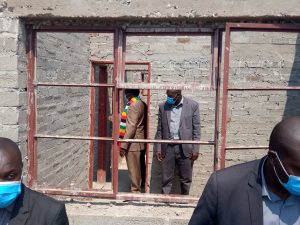 Director Civil Protection Unit, Mr Nkomo highlighted that the plan is to have 720 houses at West End farm, which will be more than enough to house all the families who were left homeless by the ravaging Cyclone Idai, ' West End and The Flats farms have been designated to cater for the upcoming development, whereas 720 units will be built at West End farm and the Flats farm has been earmarked for agricultural plots for some of the families," he said. This far, more than 20 houses are at various levels of development and will be ready for occupation any time soon
President Mnangagwa highlighted that Government is wary of the likelihood of flooding again in Ngangu and Skyline area, hence the move to get land under Chief Mutambara. "Most likely if flooding is to be experienced again it will affect the same areas. We thank Chief Mutambara for accepting our relatives and allocating land for their housing. As Government, we remain commited to giving people back their lives, holistically. We are building stronger houses, irrigation is also going to be provided. Hospitals and business centres are going to be built here," Cde Mnangagwa highlighted.
The President wound up his address by urging the community to accept the relocated families, whilst also exhorting the relocated families to respect the local leadership and the laws accruing under Chief Mutambara. Cde Mnangagwa is on a tour of Chimanimani where he is assesing progress on bridges, social amenities and infrastructure in the district. The main event is being held at Skyline where the President will deliver his main address.