Zvimba Devolution Projects in Zvimba North are progressing well with four schools at various stages of development. At Winsor Primary School, another load of cement was delivered last week and Army Artisans who are supervising the project visited Winsor on Friday to get an update of the construction works where they were satisfied with the progress highlighted by the contractor.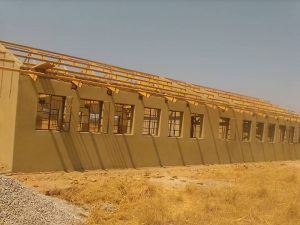 Dalkeith Primary School is now at roofing stage
The contractor indicated that they were now moving to roof works soon, according to the Council Engineer Tapiwa Onismo Nhemwa.
At Dalkieth Secondary School 2 blocks were recently completed while the Administration block is taking shape.
At Newlands Primary School the Devolution Fund built classroom block is now awaiting roofing material already procured but awaiting delivery. On Monday Engineer Nhemwa said that they were going to hold a Devolution Projects meeting with a view of completing the pending advanced construction works in the district.