Matthew Nyagumbo, Bindura The coming in of the new dispensation led by President ED Mnangagwa has brought with it many changes that have seen the transformation of ordinary people's lives in a lot of ways. One of the changes that has led to many new developments at provincial and district level has been the setting in motion of the devolution concept, which in the previous dispensation had only been talked about with no significant action taking place on the ground, where it matters the most. With the implementation of the devolution concept came the disbursements of devolution funds to provinces from central Government, to assist with the implementation of development projects at grassroots level. The disbursements started last year and funds are generally given to local authorities under the Ministry of Local Government, which is responsible for coordinating developmental projects in provinces and districts throughout the country.
In Mashonaland Central, councils are making full use of the facility by utilizing devolution funds to construct and maintain physical infrastructure to make the lives of ordinary people at grassroots better. In Muzarabani district, the construction of Kapembere, Nyamaridza and Utete clinics has all been made possible thanks to devolution fund. These clinics have made life easier for the rural folk in the remote parts of Muzarabani, some of whom had to travel long distances, exceeding 10kms, just to seek medical services. In Rushinga, Nyatsato clinic, also constructed using devolution funds, is now attracting patients from Mozambique who come to the clinic seeking clinical services. While some are keen to point out how dilapidated our medical facilities have become, our neighbours in Mozambique who live along the border with Rushinga are actually coming into the country to seek treatment at one of our rural clinics! Nyatsato clinic has since been commissioned as has Tarlington Clinic, another devolution funds project in the farming area of Matepatepa in Bindura. Similar construction projects of clinics have also taken place in Guruve, Mt Darwin and Mazowe districts, all as a result of devolution funds.
The devolution projects have not been limited to the construction, renovation and rehabilitation of clinics only, and neither are they limited to rural local authorities. In Bindura, the provincial capital of Mashonaland Central province, water supply and sewer reticulation have greatly improved as a result of capital injection from devolution funds. The Bindura Water and Waste Rehabilitation Project has seen the municipality purchase 3 heavy duty water pumps for its water treatment works and replace 2kms of sewer pipes in Chipadze and Chiwaridzo high density suburbs, a feat that would have otherwise taken years to undertake.
Bindura Municipality has also managed to construct Brockdale Primary School using devolution funds and has so far constructed classroom blocks and an ablution block for learners. Still on education, in Guruve, devolution funds have seen the construction of a fully fitted science laboratory at Chifamba Secondary school, which has since been commissioned.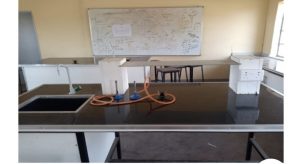 Thanks to the project, the students at Chifamba now enjoy the same lab equipment as their counterparts at any modern urban high school in the country.
These are just a few of the projects in the province under devolution, yet the impact is far reaching and quite meaningful to livelihoods.